Homeland - Grocery & Pharmacy in Oklahoma
Recipes
https://www.homelandstores.com/Recipes/Detail/6238/Southern_Peanut_Butter_Soup_with_Pepper_Jelly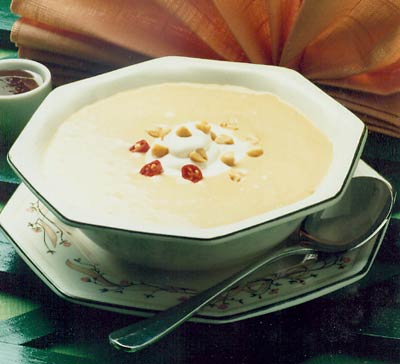 Southern Peanut Butter Soup with Pepper Jelly
Yield: Makes 4 servings
Ingredients
2
tablespoons

butter

2
tablespoons

grated onion

1
rib

celery, thinly sliced

2
tablespoons

flour

3
cups

vegetable broth

1/2
cup

creamy peanut butter

1/4
teaspoon

salt

1
cup

light cream

2
tablespoons

roasted peanuts, chopped

1/2
cup

hot pepper jelly
Add To

Directions:
Melt butter in a saucepan over low heat; add onion and celery. Saute for about 5 minutes. Add flour and mix until well blended. Stir in chicken broth and allow to simmer for about 30 minutes. Remove from heat, strain broth.

Stir the peanut butter, salt and cream into the strained broth until well mixed. Serve hot.

Garnish each serving with a teaspoon of chopped peanuts and a dollop of jelly.
Recipe and image used with permission and provided by the Peanut Advisory Board.
Please note that some ingredients and brands may not be available in every store.
Homeland - Grocery & Pharmacy in Oklahoma
Recipes
https://www.homelandstores.com/Recipes/Detail/6238/