Homeland - Grocery & Pharmacy in Oklahoma
Recipes
https://www.homelandstores.com/Recipes/Detail/7337/Chicken_Enchiladas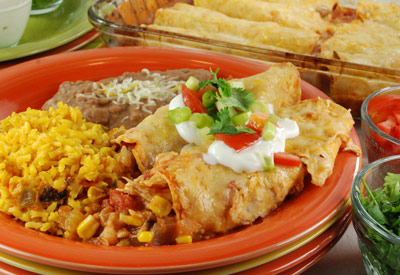 Chicken Enchiladas
Make it a complete meal and serve with Spanish rice and beans.
Customer Rating:
not rated
0 Ratings 1
Yield: 8 servings
Ingredients
3
tablespoons

olive oil

1 1/2
pounds

chicken cutlets

salt and pepper to taste

2
teaspoons

cumin powder

2
teaspoons

garlic powder

1
teaspoon

taco seasoning

1

red onion, chopped

2
cloves

garlic, minced

1
cup

frozen corn, thawed

5

whole green chiles, seeded and coarsely chopped

4

chipotle chilies, seeded and minced

1
can

(28 ounce) diced tomatoes with peppers and onions

1/2
teaspoons

all purpose flour

16

corn tortillas

1 1/2
cups

enchilada sauce

1
cup

Mexican shredded cheese

Garnish with:

sour cream

chopped fresh cilantro

diced scallions

chopped tomatoes
Add To

Directions:
Preheat oven to 350 degrees F

Coat a large frying pan with oil. Season chicken with salt and pepper. Brown the chicken over medium heat, allowing 7 minutes each side or until no longer pink. Sprinkle chicken with cumin, garlic powder and taco seasoning before turning. Place chicken on a platter and allow to cool.

Saute the onion and garlic in the chicken drippings until tender. Add corn and chilies; stir well to combine. Add tomatoes and saute 1 minute.

Shred the chicken breasts with two forks. Add shredded chicken to the pan and combine with the vegetables. Dust the mixture with flour to help set.

Microwave the tortillas on high for 30 seconds. This softens them and makes them more pliable.

Cover the bottom of 2 (9x13- inch) pans with a small amount of enchilada sauce. Pour the remaining enchilada sauce into a large shallow bowl and dip each tortilla in the sauce to lightly coat. Spoon 1/4 cup chicken mixture down the middle of each tortilla. Fold the tortilla over filling and place 8 enchiladas in each pan with the seam side down. Top with remaining enchilada sauce and cheese.

Bake for 15 minutes until the cheese melts. Garnish with cilantro, scallions, sour cream and chopped tomatoes before serving.
Photo and food styling by Webstop
Please note that some ingredients and brands may not be available in every store.
Homeland - Grocery & Pharmacy in Oklahoma
Recipes
https://www.homelandstores.com/Recipes/Detail/7337/