Homeland - Grocery & Pharmacy in Oklahoma
Recipes
https://www.homelandstores.com/Recipes/Detail/7519/Alaska_Salmon_Penne_with_Green_Beans_and_Vinaigrette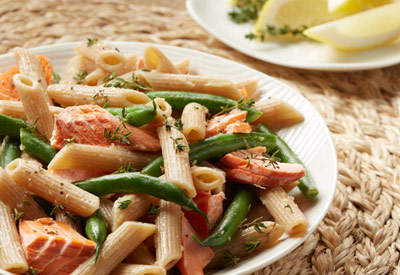 Alaska Salmon Penne with Green Beans and Vinaigrette
Customer Rating:
1 Ratings 0 Comments
Yield: 5 servings (2 cups each)
Preparation Time: 10 min; Cook Time: 15 min
Ingredients
1
package

(12 ounces) whole wheat penne (or other pasta)

1/2
pound

fresh green beans, trimmed and halved

Finely grated zest and juice of 1 lemon

1
Tablespoon

fresh thyme leaves

1/2
teaspoon

garlic salt

3
Tablespoons

olive oil (divided)

12
ounces

Alaska Salmon, fresh, thawed or frozen

Salt

Black pepper

Garnish:

Lemon wedges

Sprigs of thyme
Order Ingredients on

*Instacart may not be available at all locations
Nutrition Facts
Yield: 5 servings (2 cups each)
Approximate Nutrient Content per serving:
Calories:
452
Calories From Fat:
144
Total Fat:
16g
Saturated Fat:
3g
Cholesterol:
42mg
Sodium:
109mg
Total Carbohydrates:
53g
Dietary Fiber:
7g
Protein:
23g
Nutritional data when prepared with Alaska Salmon: 50 mg calcium and 990mg omega-3 fatty acids
Directions:
Cook the pasta in boiling water for about 8 minutes, or according to package instructions, until al dente. Add the green beans to the water during the last 3 to 4 minutes of cooking time.

Drain pasta and beans, reserving 3 tablespoons of the cooking liquid, then return pasta, beans and reserved liquid to the pan. Add the lemon zest, lemon juice, thyme leaves, garlic salt and 2 tablespoons of olive oil.

While pasta cooks, rinse any ice glaze from frozen Alaska Salmon under cold water; pat dry with paper towel. Heat a heavy nonstick skillet over medium-high heat. Brush both sides of salmon with 1 tablespoon olive oil. Place salmon in heated skillet and cook, uncovered, about 3 to 4 minutes, until browned. Shake pan occasionally to keep fish from sticking.

Turn salmon over; cover pan tightly and reduce heat to medium. Cook an additional 6 to 8 minutes for frozen salmon or 3 to 4 minutes for fresh/thawed fish. Cook just until fish is opaque throughout.

Break salmon into large chunks (removing skin, if any); add to pasta. Cook and stir gently over medium heat for 1 to 2 minutes. Season to taste with salt and pepper. Garnish with lemon wedges and thyme sprigs.
Recipes and Images provided by Alaska Seafood
Please note that some ingredients and brands may not be available in every store.
Homeland - Grocery & Pharmacy in Oklahoma Recipes
https://www.homelandstores.com/Recipes/Detail/7519/Alaska_Salmon_Penne_with_Green_Beans_and_Vinaigrette