Homeland - Grocery & Pharmacy in Oklahoma
Recipes
https://www.homelandstores.com/Recipes/Detail/7749/Mint_Brownie_Trifle_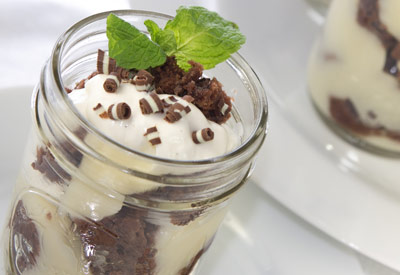 Mint Brownie Trifle
Yield: 20 servings
Preparation Time: 35 min; Cook Time: 28 min
Ingredients
Brownies:

Nonstick cooking spray

1
package

(18-19.5 ounces) milk chocolate brownie mix

2

eggs

1/3
cup

nonfat vanilla Greek style yogurt

1/4
cup

vegetable oil

14

creme de menthe chocolate layered mints (such as Andes Mints), cut into small pieces

Pudding:

1
package

(3.3 ounces) white chocolate instant pudding mix

2
cups

fat free milk

Topping:

1
package

(3 ounces) Neufchatel creme cheese

1/3
cup

nonfat vanilla Greek style yogurt

4
teaspoons

powdered sugar

Mint Curl Decoration:

6

creme de menthe chocolate layered mints (such as Andes Mints), cut into small pieces
Add To

Nutrition Facts
Yield: 20 servings
Approximate Nutrient Content per serving:
Calories:
210
Calories From Fat:
72
Total Fat:
8g
Saturated Fat:
2g
Cholesterol:
25mg
Sodium:
110mg
Total Carbohydrates:
33g
Dietary Fiber:
0g
Protein:
4g
Calcium: 8% Daily Value
Directions:
Brownies:
Preheat oven to 350 degrees F

Grease bottom of a 9 x 13- inch baking pan with non-stick cooking spray.

In a medium bowl, combine brownie mix, eggs, yogurt, and vegetable oil. Stir with a spoon until well blended. Stir in mint pieces.

Pour batter into prepared pan. Bake 22 to 28 minutes or until a toothpick inserted in center of brownies has moist crumbs attached. Allow brownies to cool completely. Cut into small pieces.

Pudding:
Combine pudding mix and milk in a medium bowl. Mix according to package directions.

Topping:
Combine cream cheese, yogurt and powdered sugar in a small bowl. Beat with electric mixer until well blended.

Mint curl decoration:
Use a vegetable peeler to make small curls by shaving down the long edge of the mint.

To assemble:
Layer the pudding and brownies in a 3- quart trifle bowl in two layers.

Spoon the topping over the top layer. Decorate with mint curls. Cover and chill until ready to serve. Add a sprig of fresh mint if desired.
Image and Recipe Courtesy of Midwest Dairy Association
Please note that some ingredients and brands may not be available in every store.
Homeland - Grocery & Pharmacy in Oklahoma Recipes
https://www.homelandstores.com/Recipes/Detail/7749/