Homeland - Grocery & Pharmacy in Oklahoma
Recipes
https://www.homelandstores.com/Recipes/Detail/9008/Braised_Collard_Greens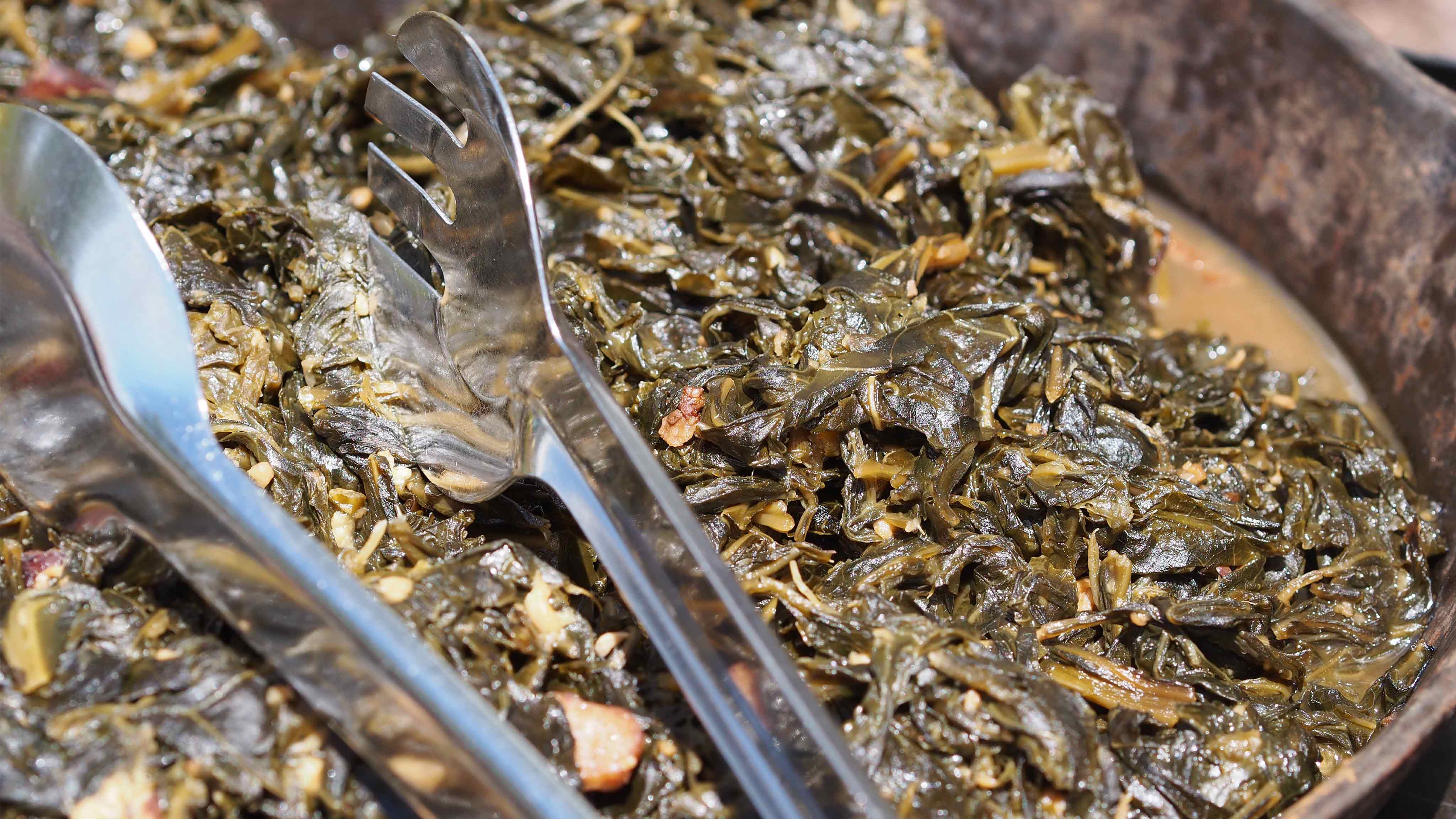 Braised Collard Greens
Yield: 8 servings
Ingredients
8
ounces

smoked bacon, diced

1
cup

onions, diced

4
cloves

garlic, minced

4
pounds

collard greens, rinsed and chopped into ribbons

Salt, to taste

Freshly ground black pepper

2
cups

chicken broth

1/4
cup

cider vinegar

2
Tablespoons

brown sugar

1/4
cup

dry white wine
Add To

Directions:
In a large Dutch oven, cook the bacon over medium-high heat, stirring occasionally, until just crisp, 10 to 15 minutes.

Using a slotted spoon, transfer the bacon to a paper towel-lined plate.

Add the onions to the Dutch oven and cook until translucent, about 5 to 8 minutes.

Add the garlic to the Dutch oven and cook another 3 to 5 minutes.

Meanwhile, rinse the collard greens and be sure to remove the stems that run down the middle of the leaves.

Prepare the greens by stacking the leaves, rolling them up and chop into 1/2- inch thick ribbons.

Add the greens to the Dutch oven and saute for 3 to 5 minutes, or until wilted, stirring constantly.

Season with kosher salt and freshly ground black pepper.

Add the chicken broth, vinegar, brown sugar, and white wine to the greens, stirring until combined.

Bring to a boil, then reduce heat to low. Cover and simmer for 30 minutes.

Add the cooked bacon to the greens and simmer an additional 15 minutes.

Photo and food styling by Webstop.
Please note that some ingredients and brands may not be available in every store.
Homeland - Grocery & Pharmacy in Oklahoma
Recipes
https://www.homelandstores.com/Recipes/Detail/9008/